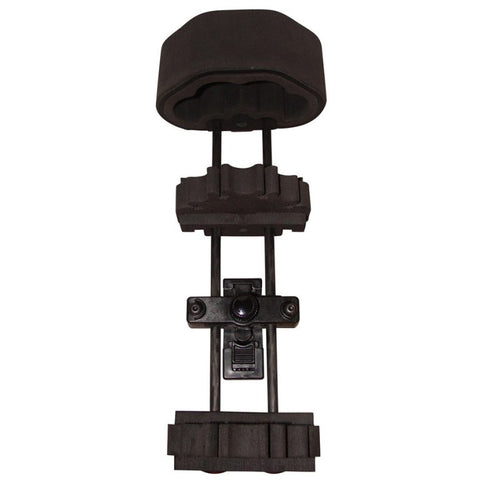 Kwikee Kwiver Kwikee Air
Exceptionally Lightweight – Many Quivers Claim To Be Light.  None Come Close To The Kwikee Air. In its' standard configuration the Air is 70% lighter than comparable quivers.  And because of the adjustability the archer can reduce the weight even more.
Super Quiet – With no plastic or metal parts you cannot make a quieter quiver.  Your broadheads can't clank against each other or any hard plastic.  Bang the shield against your tree stand and all you will hear is a dull thud.
Adjustable – Customize your quiver by removing an arrow holder or increase the distance between the arrow holders and the shield.  You can even use old arrow shafts to increase or decrease the length of the quiver so you can position it on your bow in the perfect location.  No more interfering with your site.
Reduced Vibration  – No need to add shock reducing components to reduce vibration.  The entire quiver is made of shock reducing foam.
Secure arrows – The StarTite™ design holds all diameter arrows securely.
Durable – Comes with the same Kwikee Kwiver Lifetime warranty
Versatile – fits all arrows – The 1 ½ inch hood will safely cover the most mechanical broadheads.  The StarTite™ arrow holders snugly hold most shafts.
Attachment system – Uses the Classic Kwikee Kwiver attachment for secure, one-hand, easy on and off.
---
We Also Recommend
---