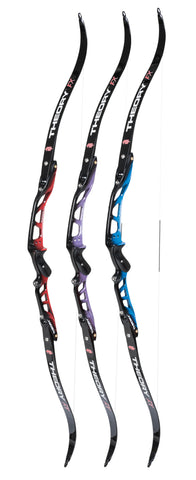 PSE Archery Theory FX
The PSE Theory recurve is the perfect solution for recurve shooters who want a high-performance competition bow in a complete package at an entry level price.

Riser: Flat, cut-past center shelf. Available in Red, Purple, or Blue 25" die cast aluminum. Tapped with plunger, ATA Accessory (AMO sight), clicker, and stabilizer bushings. ILF limb pockets with lateral limb adjustment capabilities. Black plastic removable grip. No rest included.
- 68" AMO
---