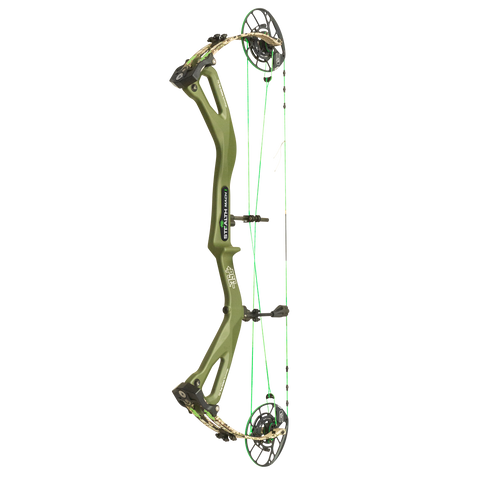 PSE Nock On Mach 1
The NOCK ON® Carbon Air® Mach 1 is inspired by NOCK ON® Nation's John Dudley.
DESCRIPTION
The NOCK ON® Carbon Air® Mach 1 is 100% made in the USA and built with a longer new-design carbon riser. The unidirectional carbon fiber elements provide for the highest efficiency of any all-carbon bow available today. Laid-back limbs and a redesigned grip area give shooters more comfort, better accuracy and increased stability. Proven Evolve® Cam technology is smoother and faster, with pinpoint precision.
This is one of the the first bows produced by PSE to wear GORE® OPTIFADE® Subalpine camouflage by SITKA®, the preferred camo of John Dudley and the NOCK ON® Nation.
GORE, OPTIFADE, SITKA, and designs are trademarks of W. L. Gore & Associates.
SPECIFICATIONS
BRACE HEIGHT: 6 ¹⁄₈"
AXLE-TO-AXLE: 32 ¹⁄₈"
ATA/IBO SPEED: 340-332 FPS
LETOFF: 80-90%
MASS WEIGHT: 3.5 LBS.
DRAW LENGTH RANGE: 25"- 30 ½"
DRAW WEIGHTS (LBS.): 50, 60, 65, 70, 80
LIMB BOLT TURNS: 10
CAM: EC
FINISH: NOCK ON® Edition
---